As every year, we publish our Amat thematic calendar and this time it is dedicated to women in the real estate industry. Under the title: "We are women, women of the real estate industry" we want to give visibility to women's role by twelve business women who shared with us their values ​​as professionals.
We had the pleasure of having senior executives in promotion, investment, consulting or construction, among others, such as:
Lluïsa Perez – Commercial manager of AMAT Immobiliaris, in the calendar's cover because of its 50 years working in Amat.
Elena Massot – CEO at VERTIX
Ana Torrens – Audit partner at DELOITTE
Lucía Ferrater – Architect at OAB
Patricia Martínez – Manager director at TARRACO Constructora
Anna Gener – General Manager in Barcelona at AGUIRRE Newman
Elena Fontecha – Manager in Asset Management at SERVIHABITAT
Marta Subirà – Secretary of Medi Ambient i Sostenibilitat at Generalitat de Catalunya
Carmina Ganyet – Corporate General Manager at COLONIAL Real Estate
Eulàlia Planes – Investment CEO at DISPUR
Maite Ramos – Manager at BIS Structures
Cristina Pont – Financial Manager at FRAPONT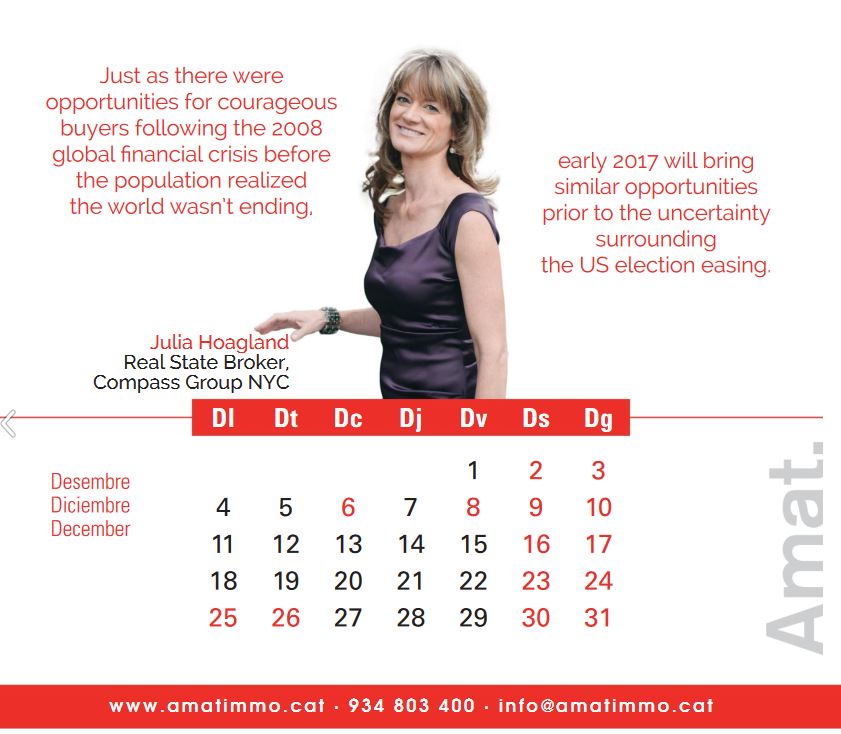 And as an international figure, we had the participation of Julia Hoagland, Real Estate Broker at COMPASS Group in New York, and an active member of Luxury Real Estate.
We know Julia Hoagland for years, because we have shared several Luxury Real Estate conferences in Europe and the USA. We would like to thanks her participation in our 2017 calendar.