Kota Mizuishi is a Japanese architect and the designer of the River Side House, close to the Horinouchi River, in Tokyo. It is a house with all the amenities of a "regular" house but with the main difference of been built in a 52 sq. triangular plot. The property is delimited by the river and a road so the architecture studio has been forced to develop this original project in order to make the most of this little piece of land.
© hiroshi tanigawa
The lack of land in the Japanese cities is the reason of this kind of extreme architecture and Mizuishi has known how to do it properly. He has built a home where others would maybe place nothing but a wall.
© hiroshi tanigawa
The house, where there is living a family of three, has two levels and the second floor is wider than the first one where there are a bathroom and a double room.
        © hiroshi tanigawa       
On the second level there is the communal area, with the kitchen, the dining-living room and a loft. Besides, there is an attic, used as a children playroom with access by a ladder. And, of course, there is also a space for a car!

    © hiroshi tanigawa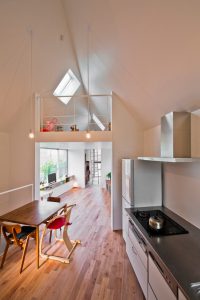 © hiroshi tanigawa