During the first half day of my first Prestige-MLS Congress I realized that Matthew Ferrara was an excellent speaker. And later on in the same congress I was lucky enough to sit next to him at dinner and I thought that the marketing ideas he shared during the dinner were really interesting. Since then I follow Matthew's blog weekly (www.matthewferrara.com), where I can always read innovative, creative and different ideas about real estate, sales and marketing. 
" A brand that resonates value is absolutely critical to modern consumers.[…] A strong combination of brand and broker is a powerful selling tool for buyers"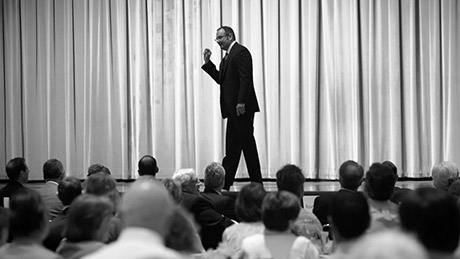 Below Matthew answers some of our questions about marketing and real estate. So we can all learn from his answers.
From your point of view, what are the most effective Real Estate Marketing strategies today?
As I see it, the best marketing strategies today are proactive, not passive. Too many brokers and companies have spent lots of time and money developing marketing that is a "waiting" game, such as online websites, listing distribution, and email marketing. These are great communication tools, but I don't really see them as the most "effective" marketing pieces. Sales is a direct, contact-sport and salespeople need to specifically and purposefully reach out to ONE individual at a time, every day, to grow their business. I suggest to brokers they should contact ONE person from their sphere of influence, ONE seller who is trying to sell on their own, and one PAST client every day. They can use email, or the phone, or social media, or texting, but they have to do it ONE to ONE, not a "template" message. They have to spark conversations, not send advertising; and listen for important cues in people's lives where they can add value. Sometimes this has nothing to do with "selling" their home today, but is has to do with building or maintaining trust, keeping the relationship vibrant, and demonstrating value before asking for it. So any technology that lets me directly contact people easily is the best. I suggest using social media, a personalized email, and then a video chat, when possible. That's marketing.
Do you think that the Real Estate Agency brand is important for the buyer?
It depends upon what the brand stands for. Many people think "any brand" works with "any" buyer. That's definitely not the case. So, the first step is to make sure you have a CLEAR understanding of your brand's value proposition, and how it can add value to a particular kind of buyer. Now, assuming you offer the right value to the right customer, then we're moving ahead with the answer: YES.
A brand that resonates value is absolutely critical to modern consumers. The main reason for this is that customers want to know the values, systems and tools that back-up their personal agent. They want to know the agent has a team behind them, and has resources beyond their personal talents and techniques. Customers want to know quality controls are in place, and supervision, as well as additional advice, are all supporting their particular agent.
The modern consumer is very brand conscious: They stand in line for hours for an Apple phone; they wear branded clothing more than ever; they drive cars with big, flashy logos on front. They like to be associated with a brand: Even a buyer wants to say to his friends: I'm working with So-and-So Brand who is helping me achieve my goals. A strong combination of brand and broker is a powerful selling tool for buyers (and sellers).
We met last year in the Prestige-MLS Congress held in Barcelona, do you think that real estate networks like Prestige-MLS are really important when we talk about luxury properties?
Real estate is a networking business. Most brokers get the majority of their business from their personal and professional networks, not "off the street" from advertising. Organizations like Prestige-MLS and others are critical to a broker's long-term success, because they provide contacts for referrals, someone to contact for advice, and sharing of best-practices between the members. When you add in the "luxury" market component, you find that networks are even more critical, because the high-net-worth buyer and seller is almost always looking for someone who is "referred" to them by a trusted individual.
They don't pick up a magazine or search the web for a broker: They ask their personal network. Every luxury brokerage I have ever worked with has been part of a luxury network because, if they get involved and build relationships, it works very well as a way to secure sellers, and generate buyer referrals. In the modern world, where capital flows across borders faster and easier than ever, a professional luxury network for prestige brokers is the best way to tap into that market and satisfy high net-worth clients.
We are experiencing a significant period of uncertainty, so is having loyalty policies with buyers a good strategy?
During times of significant uncertainty, I think the best "loyalty" policy is to stay strongly connected with buyers, and to use a contract. It is absurd to work with someone who can use your time, knowledge and energy without any commitment to compensate  you. We would never ask a doctor, teacher, or a car mechanic to give us their time and effort without compensation, and brokerage should be no different. Real estate professionals around the world have to stand up for themselves and believe they are worth being compensated for their professionalism.
Every market is different, and there are many reasons people shy away from loyalty agreements/contracts, but at the heart of the matter is really one's deep personal belief about the value they bring to the table. We often forget that consumers around the world are also people who go to work (or own small businesses): They expect to be paid for their time and effort at their job; we need to politely but firmly ask them to understand the same is true for us. Today's consumers sign contracts for everything: Television, phone service, even an airline ticket is a contract. The only reason they often don't do it in real estate is because *we don't ask them to.* So, the change is really dependent upon us.
Do you think that to ask for a recommendation from our clients is effective? Are clients willing to commit to a company?
Absolutely! Clients who are satisfied are very happy to give you a recommendation or testimonial. The online world is filled with people "reviewing" and praising people, products and services they appreciate and enjoy. Real estate brokers most definitely should ask for similar reviews from their client. Furthermore, you often don't have to ask: If you do your job so well, and delight your customers beyond their expectations, they will send you a recommendation letter or email or even post it on your social media page, without having to ask.
From your point of view, what is the most innovative marketing strategy? 
Today, the most innovative marketing strategies today are using website data and social media as a research/listening tool to learn about customer's habits, preferences and values.
Companies are assessing their website data to see which kinds of properties people are looking at, even if they don't contact us for an appointment. They are monitoring people's likes and dislikes on social networks to learn about their preferences in everything from cars to books to movies and beyond. That's the heart of the best marketing strategy.
Then these companies are hyper-targeting their message to each individual person in their database, based upon their "full" picture, not just their narrow "real estate" search criteria. We see brokers using tools like Houzz.com with buyers on their iPad, just to look at kitchens or bedrooms, to better understand people's needs, regardless of what is currently available on the market.
I am seeing open houses where visitors can interact with the house using NFC tags or QR codes, to learn more about certain features, which helps the broker understand what parts of the home people were drawn to when they toured it. I am even seeing brokers who are using their leads-management data to specifically target neighborhoods for getting listings, based upon the kinds of active, real-time searches people are doing on their website. The real power in innovative marketing today isn't what's on the front end: it's what's happening to all the data on the back end, that helps marketers use everything from email to hyperlocal websites to social messaging to drive their marketing plan.
Guifré Homedes
Amat Luxury International Markets