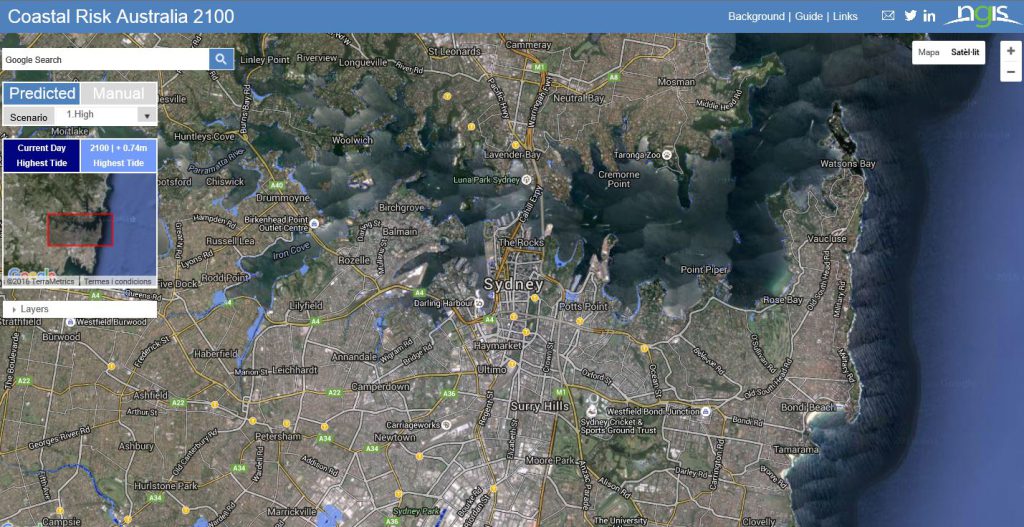 Last Friday, the website Coastal Risk Australia was launched, which takes Google Maps and combines it with detailed tide and elevation data, as well as future sea level rise projections, allowing users to see whether their house or suburb will be inundated in Australia.
This website shows the streets and landmarks that will be underwater by 2100. As easy as tip your address and see on the map how rising sea levels will affect their house.  Many Australian beaches like Byron and Coogee in New South Wales would lose significant amounts of sand, as will Bell's Beach in Victoria and Noosa in Queensland. Many coastal suburbs and cities are shown to be subject to severe inundation, including Cairns, Ballina and Hindmarsh Island.
One important thing is that it will be able to estimate how much climate change will affect property prices and insurance premiums from coastal inundation risk in the Australian real estate market.
Some scientist suggest that sea levels could rise several meters over a timescale of 50 to 150 years.