1. Metropolitan Cathedral of St. Sebastian, Rio de Janeiro
This beehive-shaped cathedral, which was completed in 1976, has four rectilinear stained-glass windows stretch some 200 feet to the ceiling giving light to this austere construction. It also holds the Museu de Arte Sacra in its subterranean space.
2. Sainte Chapelle, Paris
This chapel located on the Ile de la Cité and commissioned in the 13th century by King Louis IX,  shows off its 15 stained-glass panels in its nave and apse representing more than a thousand biblical figures.
3. Chicago Cultural Center, Chicago
The Louis Comfort Tiffany dome at the Chicago Cultural Center is one of the largest stained-glass domes in the world and is formed by 30.000 pieces of glass. It was finished in 1897 and opened as the city's first public library.
Image
4. Thanks-Giving Square, Dallas
This spiraling chapel was designed in 1977 by Philip Johnson in the heart of downtown Dallas. The colorful glass structure is crowned by the Glory Window, which comprises 73 stained-glass panels crafted by French artist Gabriel Loire.
5. Nasir al-Mulk Mosque, Shiraz, Iran
This Technicolor mosque was finished at the end of 19th in Iran. Its stained-glass windows and richly colored tiles let flow a kaleidoscopic effect with the early morning light. Although it would not appear to be, its structure is made of flexible wooden.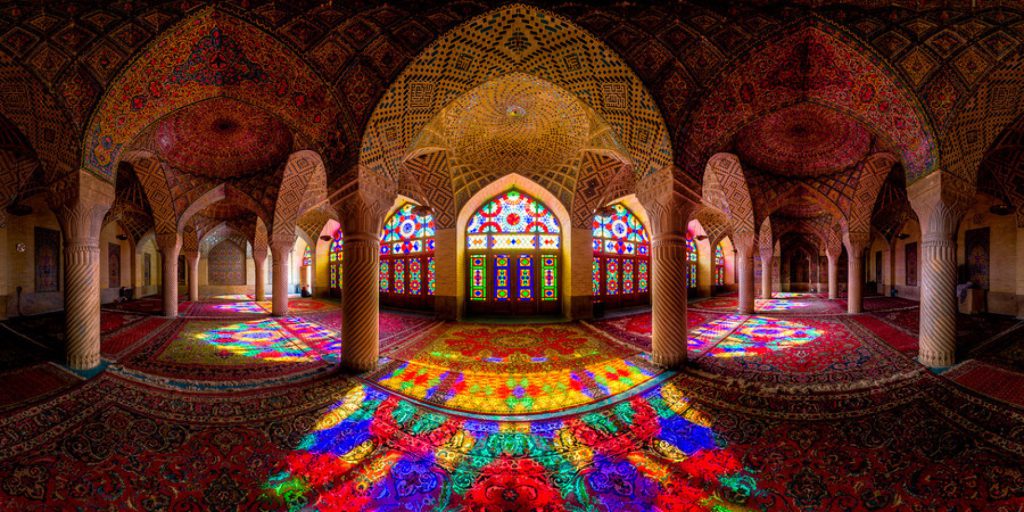 Image
6. King's College Chapel, Cambridge, England
This gorgeous English Gothic chapel, which features the largest fan vault in the world construction started in 1446 under King Henry VI monarchy.  It counts with 26 stained-glass panels installed more than a century later under the authority of King Henry VIII.
7. La Sagrada Familia, Barcelona
This Catalan Modernisme cathedral designed by Gaudi dominates the Barcelona skyline and contains a stunning work of colorful and abstract stained-glass windows. The building is still incomplete although work began in 1882. Gaudí left several directives to its construction and it is on track to be complete in 2026.
8. Galeries Lafayette, Paris
The French glassmaker Jacque Gruber designed the iconic141-foot-tall dome of this luxury shopping center built in 1912.
9. Notre Dame, Paris
This French Gothic cathedral has some of the most iconic stained glass in the world. The Rose Window was designed by Jean de Chelles and Pierre de Montreuil and installed in 1260. The window  contains 84 panes divided into four circles and is 42 feet in diameter.
10. Palau de la Música Catalana, Barcelona
Lluís Domènech i Montaner was the architect of this wonderful work finished in 1908. This concert hall counts with a stained-glass skylight featuring a three-dimensional depiction of the sun. In 1997 was named UNESCO World Heritage Site.