Many of us dream of living in an island, but many of these islands are not as paradisiacal as we would like it to be…
Here there are 8 exemples of the most populated islands in the world. Are you sure you would like to live in less tan 2 sq. m. per inhabitant?
 1. Malé, Maldives
Indeed, the Maldives are not all dreamy islands. Among its 2000 small islands its capital, Malé, turns out to be like that of overcrowded. Nothing less than 92,555 inhabitants in an area of 1.92 km2 which makes it a density of 47,416 inhabitants per km2. A madness!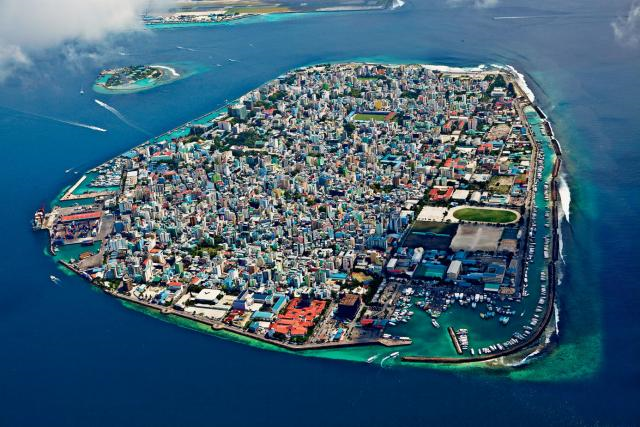 2. Fadiouth, Senegal
Not everything will be deserted, or small villages in Africa … In this case the island of Fadiouth, in Senegal, is a small piece of land of only 0.15 km2 inhabited by 9000 people with a density of 60 thousand people per km2…
3. Santa Curz Island, Colombia
This is the most overcrowded island in the world with 1,247 inhabitants in 0.012 km2 and 97 houses. A curiosity is that there is no space for a cemetery and the dead are buried in other islands around. It has only a basic health center and a small school.
4. Migingo island, Kenya
Migingo is a tiny island in the lake Victoria inhabited by 400 people in an area of 0,004 km2. This small piece of land was disputed for a long time by Kenya and Uganda, due that it is almost in between of the two states.
5. Lindau, Germany
In Germany, this Bavarian island counts with 3000 inhabitants and is located in an area of 0.68 km2. The historic town of Lindau is connected by train through a bridge that connects with the mainland.
6. Mexcaltitan, Mexico
818 people live in such a small space. The straight lines which can be seen from the air are channels that cross the city and are floodedi n the rainy season, from June to October, and residents have to row instead of walk!
7. Isola dei Pescatori, Italy.
The Fishermans' island, in Lago Maggiore, has 50 inhabitants in an área of  0.034 km2. It is the only inhabited throughout the whole year.
8. Manhattan, New York
There are still people who don't know that New York is an island. Yes, indeed. It is an island inhabited by 1.600.000 people in a space of  59 km2.