Many tourists say that in order to see the best of Barcelona have to look up at the sky. Modernist buildings and new skyscrapers delight visitors while walking through the city. But Barcelona is much more than this.
Not only is enjoyable the bird's-eye view but also its paving. It can't go unnoticed! In fact, all those that have followed the Modernism route might have realised of one of the symbols of the city since it indicates in red the path to follow for discovering Gaudí's treasures.
It is the well-known "panot of flower" (or more-known as "rajola" –paving stone) that in the course of time has become a characteristic of Barcelona.
This panot of "flower" design, represents a schematised four petals flower designed in stone in 1900 by Josep Puig i Cadafalch and located in the entry of "Amatller's house". In fact, there are two theories pointing out its meaning.
According to the Museum Of History of Catalonia it represents the flower of an almond tree and, at the same time, a chocolate bar, since the owner of the house was manufacturer of "Chocolates Amatller".
In 1926 this paving stone generalised and nowadays is typical of the "Eixample" neighbourhood, becoming an urban symbol.
Nevertheless, two years ago it was decided to introduce a new design with other meaning also characteristic of Barcelona's identity: banana trees. But these ones don't give bananas, it is just the tree name!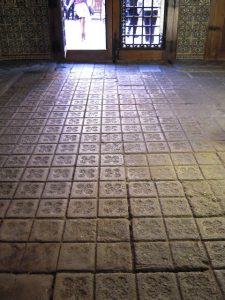 These trees have been an important part of the city iconography, present in a big majority of streets, since they adapt very well to the urban atmosphere and provide shadow.
From October we will see these new paving stones – designed by Terrades Architects- from the extension of the Diagonal, between Francesc Macià and Passeig de Gràcia. These new grey and greenish panots introduce many technical improvements in relation to the absorption of the water and the pollution because of the carbon dioxide.
Even adapting to modern times, Barcelona keeps alive Modernism as well as innovation that so much identifies the city.
The Barcelona brand is formed by details like these that do change your point of view, never better said!
From now on there are no excuses for looking to the floor while walking. Always carefully, of course!