Catalan architecture is full of great reference figures, some examples of whom we currently have active in our selection of properties and present to you below.
The architect Enric Sagnier i Villavecchia was born in Barcelona in 1858. Following the currents of the period, his style is akin to Modernism, though he interpreted it in a more sober and functional way, combining it with Classicism.
Most of his main works are to be found in the city of Barcelona, for he had very good relations with the bourgeoisie of the time. He was nonetheless a very productive architect throughout Catalonia, and even drew up plans for a church in Perth, Australia.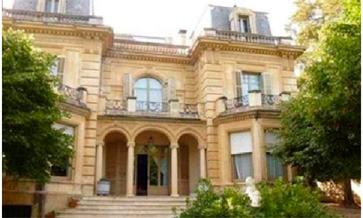 In Barcelona we may stress works of his such as the Palau de Justícia, the Duana del port customs house, the Temple Expiatori del Tibidabo church and the fantastic house in the Pedralbes neighbourhood, which is in our properties portfolio. This is a magnificent mansion dating from 1917 and currently undergoing refurbishment to adapt it to present-day needs, while retaining the architectural features and structure that make it a unique mansion for living in and for organising special events and receptions.
Also by the architect Sagnier, we have in our properties portfolio a unique house in the Maresme region, specifically in Caldes d'Estrac. It is characterised by its Moorish style and its direct access to the beach.
Adolf Ruiz i Casamitjana was born a year later, in 1859, also in the city of Barcelona. He can indeed be defined as a fully Modernist architect, following in the lines of Domènech i Montaner.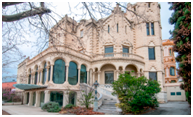 He was the author of great works to be found particularly in the Eixample district of the city. His best-known work is the La Rotonda or Torre Andreu building at the beginning of Avinguda Tibidabo, just a few metres from another great work of his that we present to you in our selection of properties. It is an incredible house with an area of 1,714 square metres, built in 1903 on Avinguda Tibidabo itself and conserving in fine condition the marvellous mosaic floors, the walls richly painted with period scenes of the time and magnificent ceilings.
Finally, the architect Sert, also born in the city of Barcelona in 1902, is another Catalan reference figure, though this time more Contemporary. In his case, he is an architect and town planner in the Rationalist style, as shown in some of his great works such as the Fundació Joan Miró on Montjuïc mountain. He was one of the inspirers of the Pla Cerdà for Barcelona, which completely changed the layout of the city, together with the Le Corbussier studio at which he worked in Paris.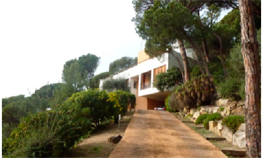 He was a close friend of great artists such as Picasso and Miró, with whom he would share long evenings at his house in Premià de Dalt, the architect's posthumous house that we present to you in our selection. Walking around the house, we can feel the immense peacefulness of the surroundings and can look out at the fantastic views that served as a source of inspiration for Sert himself and for all his artist friends.