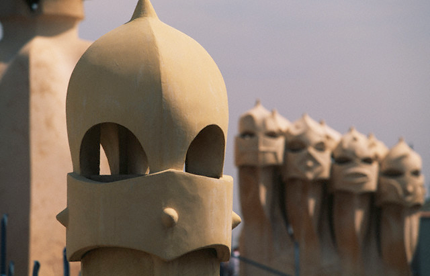 From June till September you can enjoy Barcelona thanks to it offers lot of possibilities and different ways to do it.
If you want to dinner or drink some cocktail, the Hotel Omm terrace is a great choice. From there, you can see the Milà House or de Sagrada Familia. Another option is at Hotel Majestic terrace or at the modernist Casa Batlló.
For everyone who likes to be close the sea, you'd like to know that there are lots of restaurants near the beach city or you can choose the terrace of History Museum called "Sunset in Barcelona" or the terrace of Duquessa de Cardona Hotel, at Passeig Colom street.
At Rambla you'll also find nice places with terraces, for example the Attic Restaurant or Neri Hotel that it has a lovely inner courtyard.
But, if you prefer quite and relaxing places, Montjuic or Juan Carlos Hotel are two good possibilities. Or also you can enjoy your dinner looking the stars at Observatori Fabra, where, besides of this, you'll have awesome views from Barcelona.
You only have to choose how you can enjoy Barcelona during the summer.