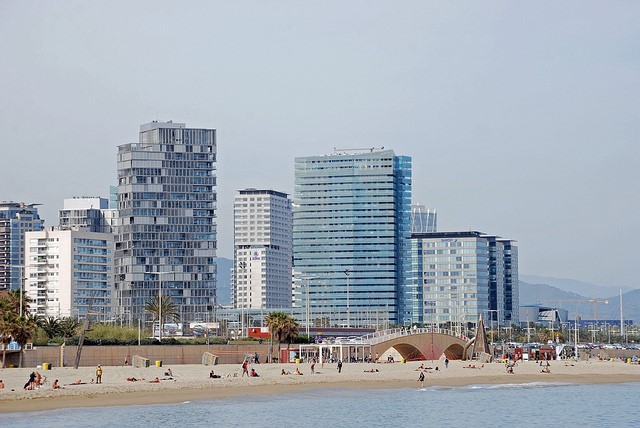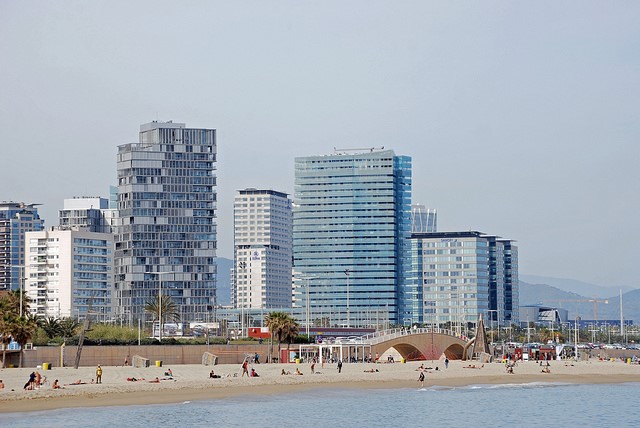 Two and a half years ago we started to sell Illa del Mar flats. Illa del Mar is an exclusive residential complex on the Barcelona city seafront. It is located in the neighbourhood of Diagonal Mar. This is a newly built area of Barcelona and was created as a result of the celebration of the Forum de les Cultures in 2004. Its name comes from the enlarging of the main avenue which crosses Barcelona city, Avinguda Diagonal, to the Mediterranean sea.  It is a residential area based in residential complexes facing the sea. In this area several residential complexes have been built since 2000, all of them designed with a completely different style from the typical residential buildings of Barcelona. These five residential complexes, called Illa del Cel (Sky Island), Illa del Llac (Lake Island), Illa del Bosc (Forest Island), Illa de la Llum (Light Island) and finally Illa del Mar (Sea Island), consist of several towers with high quality communal services.
This area is surrounded by a public green park called Diagonal Mar, designed by the well-known architects Enric Miralles and Benedetta Tagliabue. It is the third biggest green area in Barcelona city. Diagonal Mar also belongs to 22@ district, where several TIC, Media and Design companies are based. We can also find other buildings of unique design such as Torre Agbar and Centre de Convencions.
Illa del Mar complex has 252 flats distributed in two towers linked by a linear low-rise structure.  The project was designed by the MSAA Architecture Group. The south tower has 25 floors and is the closest tower to the beach. This tower has six dwellings per floor, all of them with large terraces with sea views. There are four, three and two bedroom flats. The linking structure has three floors and its dwellings have two terraces. The north tower has 21 floors, there are four flats per floor, and all of them have three bedrooms. From all terraces you can enjoy the fantastic city and sea views.
There is a beautiful high quality communal area. It is composed of two swimming pools, a fitness centre with sauna, a paddle tennis court, a multipurpose room, where activities like yoga, children parties, etc, are organized by the neighbours, and a two level parking area with storage rooms.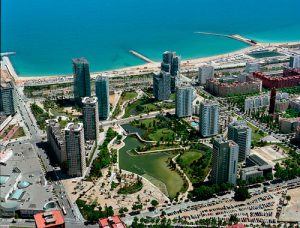 Since the summer of 2011 Amat Immobiliaris has sold more than 85 flats in Illa del Mar. Today there are no new flats available in this residential complex. Sales volume has exceeded 70 M€. More than 86% of the sales have been made with foreign buyers, coming to Illa del Mar because you cannot find other flats like this in Barcelona city. All these buyers have found in Diagonal Mar the kind of lifestyle they are looking for in Barcelona, it is the perfect combination of sea and city views, quality communal services and everything not far away from Barcelona's city centre.
Most of these foreign buyers came from Russia. They greatly appreciate the large terraces, views and the location next to the sea. Other nationalities which have found in Illa del Mar the perfect location to buy a property in Barcelona have been Egyptians, Chinese, people from some European countries such as Belgium, Switzerland and France, and several North and South Americans.
The average price has been 6.600 €/m2, a significant price remembering that sales started in 2011, one of the worst years of the crisis. During this period five penthouses with spectacular views have been sold, all of them priced over 10.000 €/m2. Prices of these properties are almost at the level of the best classical locations of the city. Today there is still a very important demand for second hand flats in this area and the market is very active.