L'Eixample is the place in Barcelona where orientation is easy and getting lost is totally impossible. It is the newest part of the city as well as the most geometrical one. This district is divided into 6 neighbourhoods, each one with its own charm but all of them composed by crossing lines and, curiously without any corner! The most remarkable of all of it is that inside these squares made from the distribution of the streets hide patios and gardens.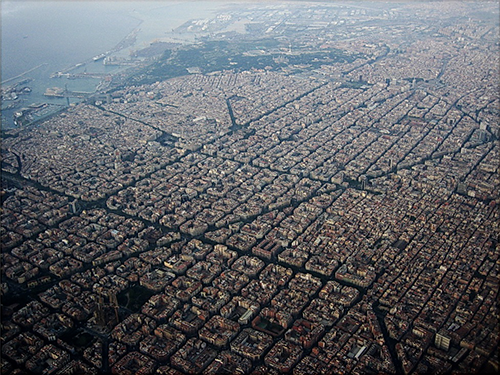 It was designed in 1850 by Idelfons Cerdà, one of the first town planers and, even if it's from the 19TH Century it is yet studied around the world. L'Eixample -located in the north-west of Plaza Cataluña and the right of Passeig de Gracia- is a very complete neighbourhood where residential quality, cultural activity and gastronomy, architecture and shopping join together. This centrical area offers security and comfort for the closeness to all services of the city and in the last few years has been transformed into a high standing area because of the combination of all these characteristics. That's way it's so appreciated by Catalans and foreigners.
In fact, in Amat we sold an important amount of properties in this area along 2014, a 14% were acquired by foreign people and a 86% by nationals. Prices of brand-new properties have remained practically unchanged since 2013 and the average has been 4.150 €/m2. Second hand has slightly increased and the average has been 3.060 €/m2.
In L'Eixample you can find from the unique and marvellous Art Noveau Gaudí creations to the most luxurious shops; from the coolest cafes to the best restaurants. It is a quiet district with spacious interior patios for its neighbours, green areas and parks for the whole family where playing sports and relaxing. We have to highlight that it is a neighbourhood for living and, above all, for enjoying the city and everyday life.
Besides, it is well-connected to other parts of the city thanks to underground and train, although it is possible to go walking wherever you want of Barcelona.
L'Eixample suites whichever lifestyle ones decides to live. What is yours?